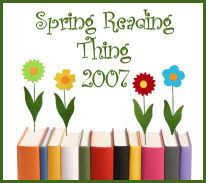 I am so excited!!! I love books and reading and this just puts the icing on the cake. After having a couple of children, I recently realized that I have a bunch of books around the house that I haven't read. Not to mention that the library is FULL of books that I want to read. Hopefully, blogging about these will keep me accountable. At the very least, maybe you will see something you want to read as well. So, without further ado:
Here is my list of spring book reading. These are in no particular order. After reading each of the books, I will write a short review of the book so you can decide if this is for you or not. If you are interested in other books go to
this post.
1.
Facing Your Giants
Max Lucado
2.
Facing Your Giants: Study Guide
Max Lucado
3.
The Richest Man Who Ever Lived: King Solomon's Secrets to Success, Wealth, and Happiness
Steven K. Scott
4.
How to Lead Your Child to Christ
Robert & Bobbie Wolgemuth
5.
At First Sight
Nicholas Sparks
6.
Three Weeks With My Brother
Nicholas Sparks and Micah Sparks
7.
True Believer
Nicholas Sparks
8.
The Bible in 90 Days
Ted Cooper, Jr. Editor Note: I heard about this on
Primetime America
, (a christian radio show) and while I may purchase this Bible in the future, there is a schedule of 90 days through the Bible that you can download for free
here
. They also have a
blog.
9.
When Joy Came to Stay
Karen Kingsbury
10.
Shepherding a Child's Heart
Tedd Tripp
with
Shepherding Your Child's Heart: Parent's Handbook
Tedd Tripp
11.
How Now Shall We Live?
Charles Colson
Search for other books at the link on my sidebar. Stay tuned for updates! Happy Spring Reading!!